The S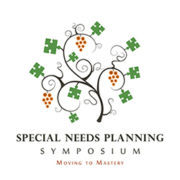 pecial Needs Planning Symposium on February 15-17, 2018 in Sonoma Wine Country provides professional fiduciaries a unique opportunity to learn. It brings professionals together from several fields interested in expanding their knowledge and mastering this difficult but rewarding area of practice. Nationally recognized experts teach the courses, provide materials, and network with attendees. The goal of the program is collaboration and congeniality to help all colleagues become better professionals. To learn more or register (a special negotiated PFAC member rate), go to SNTSymposium.com.
2018's program includes:
Too often special needs professional focus on managing assets in an SNT, however, there may be a host of options available that have nothing to do with SNTs, the panel of Ann Koerner, Jim Huyck, Ruth Phelps, and Scott MacDonald will discuss ways to help clients with disabilities by thinking outside the docs.
Professional ethics issues arise when planning and administering SNTs, the panel of Julie Menack, Andrew De Vries, Daniel Cutter, and Susanne Cohen will provide answers in how to handle these sticky ethical issues.
Public benefits expert Jim Huyck will present on the In Home Supportive Services program and how to understand and advocate for this wonderful program.
Kevin Urbatsch will present on Evaluating and Correcting Defective SNTs and Drafting Tips for third party SNTs
Planning strategies change when a family is wealthy but includes a person with a disability. The panel of Roxanne Gunther, Joel Almquist, Ann Koerner, and Deborah Ballins Schwarcz will evaluate case studies on how to approach this situation.
Michele Fuller and Kevin Urbatsch provide practical applications and case studies demonstrating the use of ABLE accounts.
One of the most challenging aspects of special needs planning is handling retirement assets like IRAs, Melanie Marmion makes this complex area understandable and relatable for all  professionals
Success is tricky. Once you reach it, the issues can be managing case flow and ensuring compliance with legal duties, Will Lindahl will discuss how he uses the latest technology to manage over 4,000 special needs beneficiary's accounts
There are two tax programs, one by Thomas Brinker who discusses tax benefits available to families with a loved one with special needs and the second by Courtney Kosnik who provides her top tips in preparing special needs fiduciary tax returns.
Once you hear all the great information provided, how can you bring it back to your office? Mark Metzger and Michele Fuller will provide a session on how to implement this knowledge into your own practice.
We end the Symposium with a program titled Stump the Chump. This session brings all the professionals together to answer your questions on special needs planning.
Attendees earn up to 2 ethics hours plus 13 additional educational hours.
The most fun will be the Friday evening reception that features amazing hors d'oeuvres, Sonoma wine, craft beer, creative non-alcoholic beverages, and great social time.
If you work with special needs trusts – or want to learn how to use, draft, fund and administer them – don't miss this program!